Expedition in Sikkim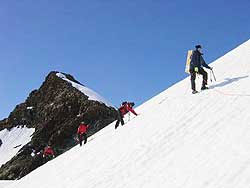 Mountaineering in Sikkim has been introduced very recently. Government of Sikkim opened few alpine peaks for climbing as a new step to promote quality adventure tourism in Sikkim. Mountaineering season in Sikkim starts from April to June, and September to November, when daytime temperature at most altitude are quite comfortable. Above 4000m in the morning and evening the temperature will be considerably lower and can drop to around -20 degree Celsius. Usually day time temperatures are pleasant but nights are very cold above 5000m. Temperature are milder in spring but there can be more snow around. Mid April, June through last week of September, to first week of December, is the safest and the best time for climbing and mountaineering as well as for trekking in sikkim.
Sikkim shares a mountainous border with Nepal in the west, with China in the north and the east. All the early (pre-war) expeditions passed through Sikkim to cross overto Tibet on their way to attempt Everest. Francis Younghusband's famous mission of 1904 to Tibet also passed through Sikkim.
Doug Freshfield was one of the early mountaineer to visit this area. His book "Round Khangchendzonga" is a classic record of all the areas in North Sikkim. In West Sikkim, peaks like Kabru (7338m) were climbed in 1935 by C.R. Cook. Others like Kokthang and Rathong were climber much later. Even now some peaks have not been climbed from Sikkim side, though ascents have been made from Nepal. Northern Sikkim consists of Zemu glacier and valleys from which rises the third highest mountain of the world – Khangchendzonga. Pual Baur and his German team repeatedly attempted to climb it via its eastern approaches before the Second World War. Ultimately the Indian Army Team made subsequent repeat ascents. There are many peaks around Khanchendzonga like Simvo and Siniolchu, which are tempting and an open invitation to climbers.
Further North is Pyramid peak, the last 7000er climbed by the Himalayan Association of Japan (HAJ) in 1993. In the vicinity are peaks like Jongsanng and Chorten Nyima. Pauhunri with the pinnacle of Donkhya Ri is one of the chief attractions on the eastern side. There is a lot climbers can do in the Sikkim Himalayas.
Some of the Major peaks of Sikkim

Mt. Khanchendzonga

Mt. Simvo

Mt. Kabru Forked

Mt. Punari

Mt. Pandim

Mt. Jopuno

Mt. Jopuno

Nepal Peak

Mt. Siniolchu

Mt. Narshing

Mt. Kabru

Frey's Peak

Mt. Kabru Dome

Mt. Kabru South

Mt. Thingchinkhang

Brumkhangtse

Mt. Rathong

Mt. Khanchenghyao

Mt. Lamo Andgen

Tent Peak

Mt. Kumbarkarna

Mt. Gurudongmar

Mt. Kokthang

Major mountain ranges in Sikkim - Chola Range
PEAKS OPEN FOR CLIMBING IN SIKKIM
Peaks in West Sikkim
Name of Peak

Location

Grade

Frey Peak
5830 mtrs

Chauringang

AD+

Mt. Tenchenkhang
5603 mtrs

West Sikkim

D

Mt. Joponu
6010 mtrs

West Sikkim

D+
Peaks in North Sikkim
Name of Peaks

Location

Grade

Lama Wangden
5868 mtrs.

Lachen

AD

Brumkhangtse
5635 mtrs.

Yumthang

D
Permits : The permits for the above mentioned peaks will be processed by us through the Sikkim Tourism.
Expedition Royalties : The following royalties are levied for the Expeditions.
For foreign expedition teams : US $ 500 per team of upto four members, US $ 700 per team of upto eight members and US $ 100 for every additional members. For domestic expedition team Rs. 15,000/- per team of up to eight members and Rs. 1,500/- for every additional members.
For local expedition team Rs. 5000/- per team of up to eight members and Rs 500 for every additional member.
Royalty for climbing of peaks in Sikkim :
(a) Peak above 8000 mtrs., US Dollars 8000
(b) Peak between 7501-8000 mtrs. US Dollars 7000
(c) Peak between 7001-7500 mtrs. US Dollars 6000
(d) Peak between 6501-7000 mtrs. US Dollars 5500
(e) Peak below 6500 mtrs. US Dollars 5000
Insurance : Insurance is must for all the climbers booking peaks through us : Mountain tours and treks will arrange to cover the insurance as below : (1) Expedition Guides / Sherpas : Rs. 3 Lakhs per member. (2) Camp Crew : Rs. 1 Lakh per person. (3) Porters : Rs. 50,000/- per person. (4) Yak / Dzo / Horses : Rs. 20,000/- per animals.
Essentials : The best season to climb in Sikkim is from April to December. Foreign expeditions team visiting Sikkim will have to book the peak with a peak royalty. It is mandatory for expeditions in Sikkim to take a liaison officer from the Sikkim Mountaineering Association of which we are a member. It is advisable to book the peaks well in advance with us in order to complete all the official formalities. Generally we obtain the permits in a period of one week. Rescue operation during emergencies and accidents are looked after by the liaison officer who will coordinate with us and government machinery. You can also enquire about exotic Kanchanjunga trek, Goechala trek, Dzongri trek, Green Lake trek, Singalila Yambung trek, Kasturi trek that we regularly organize.
Come to the world of adventure and excitement. If you have the Zeal and hunger to climb we have the expertise and world class equipments.
Altitude Sickness
Many people who trek in the Himalayas experience the effect of altitude especially above 3000 m. The problems arise from the inability of the body to cope and deal with a rapid gain in altitude. Therefore, it is important to follow the recommended guideline in terms of meters of ascent per day and to allow adequate time for acclimatization
Clothings and Equipments - Basic List
No one can predict exact weather conditions in the Himalayas. So it is highly recommended to prepare yourself for a wide range of temperatures and conditions.
# Rucksack: You need one duffle bag and daypack bag
# Footwear: lightweight trekking boot and climbing boot (co-flax)
# Sleeping Bag: 'A' grade sleeping bag - one that is rated below -15 to 20 Degree Centigrade.
# Clothing: a pair of very warm thermal wears, fleece trousers and fleece jackets, lightweight trousers, a pair of warm feather jackets, warm socks, warm gloves, warm hat, waterproof jackets and trousers, rain coat and gaiters.
# Other Essentials: good sunglasses, karrimat, water bottles, head lights with enough batteries, sunscreen, lips guard, washing kits, first aid kits, towels, toilet paper, energy bars, walking sticks and snickers.
# Climbing Gears: ropes, ice axe, crampons, carrabener, figure of eight, chest harness, sheet harness, zummar, ice piton, ascender, descender, dead man.
You can email us for all the details and overall costing involved in any particular Expedition.