Sikkim
Sandwiched between the Kingdom of Nepal is the West and Bhutan is the East lies the enchanting little indian state of Sikkim. A small stretch of rugged and pristine land just 115 kilometers by 65 kilometers. On its Northern border towers the plateau of Tibet whereas it shares it Southern borders with West Bengal, which is another State of India.
Sikkim was a Buddhist Kingdom under Namgyal - Chogyal dynasty from 1642 to 1975. Sikkim became a protectorate of India in 1950 and finally merged with India in 1975 after a series of political turmoil and unrest.
Sikkim is notable for its biodiversity, including alpine and subtropical climates, as well as being a host to Kanchendzonga, the highest peak in India and third highest on Earth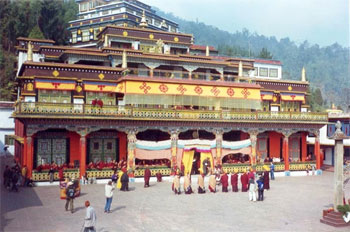 The area of Sikkim is 7,096 sq kms and measures approximately about 115 kms from North to South and about 65 kms from East to the West. The elevation ranges from 224 mts to over 8590 mts above sea level which gives Sikkim it's incomparable range of Flora and Fauna.
The pull of it's intense nature beauty imbued with a mystic aura and its cavalcade of ancient legends and colorful history make Sikkim the perfect holiday destination for all age group. It's age old appeal lies in the profusion of lofty peaks, holy lakes, ancient monasteries, orchid nurseries, heli-tours, dense Foothill Forest, Frothing rivers, lush paddy Fields and above all the stunning Sikkim Trekking routes. Abundant in nature are animals like Red Panda, Snow leopard and Blue ship. Among others are some 600 to 1000 species of orchids and flowers add to this wonderful collection of nature's bounty.
Sikkim lies nested under the protective shadow of its guardian diety, Mount Khanchenzonga (8585m), the third highest mountain in the world. No mountaineer has set Foot on it's great Summit - so sacred and Forbidding.
There is a Feeling of pre-historic beauty and wonder still amongst those vast tracts of pristine peaks and valleys, lakes and rivers, It's the kind of mysterious beauty that poet rhapsodize about and makes artists long to capture on canvas.
Sikkim General Information
Area : 7,096 sq kms

Population (2012 Census) : 6,19,000

Literacy (2001 Census) : 81.4%

Capital : Gangtok

Altitude : 5,500 ft

Annual Rainfall : 3,894mm

Latitude : 27-28 °North

Clothing : Summer => Light Woolen Winter => Heavy Woolen

Longitude : 88-89°East

Best Season : March to Late June & October to December

Temperature : Summer => Max 21°C - Min.13°C. Winter => Max 13°C - Min.05°C
Best Seasons for Trekking in Sikkim
MId March, April, May till second half of June - Mid September, October, November till last week of December
Nearest Airport
Pakyong Airport linking Kolkotta, Bagdogra linking Kolkata,Guwahati and New Delhi
Nearest Railway Station
New Jalpaiguri Railway station Connecting Kolkata, Delhi, Guwahati, Lucknow and other important cities in India.
Sikkim Entry Formalities for Indians and Foreigners
Indian National intending to visit Sikkim do not require any special permit while visiting unrestricted areas like Gangtok, Rumtek, Phodong, Yuksam, Pelling, Pemayangtshe etc, but visiting certain areas of North Sikkim like Lachen, Lachung, Gurudongmar Lake, Cho Lhamu Lake, Yumthang Valley, Thangu, Chopta Valley etc requires special Pemit. It is mandatory to obtain Special Permit to visit those Propected Areas.
Foreigners must obtain Inner Line Permit (ILP) to visit Sikkim. The Permits can be obtained from all Indian missions, Sikkim tourism office at New Delhi, Kolkata, Siliguri, Melli Check Post and Rangpo Tourist lodge on the strength of an Indian visa, Passport and 2 Passport size photograph. The 15 days duration Permit is issued on the spot without any delay provided photo copies of passport and visa details along with two passport photo of the applicant are made available then and there. The permissible duration of stay for foreign tourists would be 15 days initially. The State Government is Authorized to extend the same twice by a further period of 30 days(15 days each). The extention of permits can be obtained from FRO at GANTOK and superintendent of police of the North, West and South Districts.
For those interested for high altitude adventure trekking in sikkim, the Department of Tourism issues Protected Area Permit (PAP) at Gangtok which is available for certain Specified area for groups consisting of two or more foreigners subject to the condition that the trekking programme is arranged through Local Travel Agents.