Nepal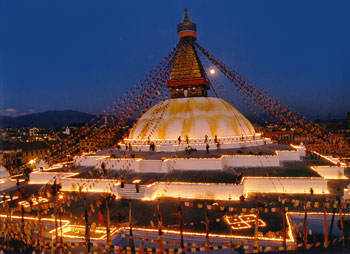 Nepal is a small country in south Asia situated between two giants nations – India and China (Tibet). It is one of the most ancient countries in the world. The uniqueness of Nepal's natural and unspoiled beauty is known worldwide. It is this pristine place where Gautama Buddha was born and, left the world of philosophy of peace, tolerance and compassion. This tiny kingdom was isolated from the rest of the world for centuries, with its untouched massive mountains, green terraced foot hills, thick jungle terrain, awe inspiring white rivers and above all its people, who with their rich and colorful culture remains as beautiful as their natural surroundings. Nepal truly is a trekker's paradise.
Nepal is a country full of adventure and beauties of the intricate nature and culture. It offers the most spectacular mountains scenery in the world with eight of the ten highest peaks in the world. Several others beautiful and charming peaks can also be seen. The spectacular Himalayan peaks not only give breathing views, one can have experience of expedition in the high altitude, or just trekking and hiking. Similarly one can also have the experience of rafting in the rivers of Nepal, and can also do natural wild life safari in the jungles. Beside that Nepal, have a colorful tradition, art and architecture, which remains unchanged for the past hundreds of year. There are thousands of temple of Gods and Goddess that you can find here and there in the valley of Kathmandu. Nepal is very famous for its peaceful blend of Hindu temples and Buddhist stupas. The unique culture that have developed from the marriage of two major religion of the world" Buddhism and Hinduism" is very warming and unique. Nepal is a paradise for adventure in the Himalayas and in the course of time it has drawn hundreds of expeditions from all over the world to conquer its high Mountains. In short, Nepal can be regarded as the living paradise of the entire world offering a true living cultural heritage. Tourists from all over the world are attracted to the richness and variety of scenic beauty not found anywhere else in the world.
We will give you a unique glimpse of a real pristine and untouched paradise. We need you to show you your dream of Shangri-La coming true, so open your hearts to us. We have a professional trekking agency, specialize in giving you "Nepal" the way you want to see it.