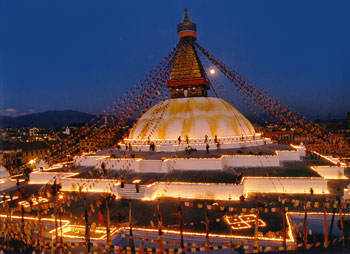 Nepal is a small country in south Asia situated between two giants nations – India and China (Tibet). It is one of the most ancient countries in the world. The uniqueness of Nepal's natural and unspoiled beauty is known worldwide. It is this pristine place where Gautama Buddha was born and, left the world of philosophy of peace, tolerance, and compassion. This tiny kingdom was isolated from the rest of the world for centuries, with its untouched massive mountains, green terraced foothills, thick jungle terrain, awe-inspiring white rivers, and above all its people, who with their rich and colorful culture remains as beautiful as their natural surroundings. Nepal truly is a trekker's paradise.
Nepal is a country full of adventure and beauty of the intricate nature and culture. It offers the most spectacular mountain scenery in the world with eight of the ten highest peaks in the world. Several other beautiful and charming peaks can also be seen. The spectacular Himalayan peaks not only give breathing views, one can have experience of the expedition in the high altitude, or just trekking and hiking. Similarly, one can also have the experience of rafting in the rivers of Nepal, and can also do natural wildlife safari in the jungles. Beside that Nepal, have a colorful tradition, art, and architecture, which remains unchanged for the past hundreds of year. There are thousands of temples of Gods and goddesses that you can find here and there in the valley of Kathmandu. Nepal is very famous for its peaceful blend of Hindu temples and Buddhist stupas. The unique culture that has developed from the marriage of two major religions of the world" Buddhism and Hinduism" is very warming and unique. Nepal is a paradise for adventure in the Himalayas and in the course of time, it has drawn hundreds of expeditions from all over the world to conquer its high Mountains. In short, Nepal can be regarded as the living paradise of the entire world offering a true living cultural heritage. Tourists from all over the world are attracted to the richness and variety of scenic beauty not found anywhere else in the world.
We will give you a unique glimpse of a real pristine and untouched paradise. We need you to show you your dream of Shangri-La coming true, so open your hearts to us. We have a professional trekking agency, specializes in giving you "Nepal" the way you want to see it.
Trekking in Nepal:
Whether you begin your trek at a road head or fly into a remote mountain airstrip, a large part of it will be in the Middle Hills region at elevations between 500 and 3000 meters. In this region, there are always well-developed trails through villages and across mountain passes. Even at high altitudes, there are intermittent settlements used during summer by shepherds, so the trails, though often indistinct, are always there. You can easily travel on any trail without the aid of ropes or mountaineering skills. There are rare occasions when there is snow on the trail, and on some high passes, it might be necessary to place a safety line for your companions or porters if there is deep snow. Still, alpine techniques are almost never used on a traditional trek. Anyone who has walked extensively in the mountains has all the skills necessary for an extended trek in Nepal.
Though some treks venture near glaciers and even cross the foot of them, most treks do not allow the fulfillment of any Himalayan mountaineering ambitions. Nepal's mountaineering regulations allow trekkers to climb 18 specified peaks with a minimum of formality, but you must still make a few advance arrangements for such climbs. Many agents offer so-called climbing treks which include the ascent of one of these peaks as a feature of the trek. There are a few peaks that, under ideal conditions, are within the resources of individual trekkers. A climb can be arranged in Kathmandu if conditions are right, but a climb of one of the more difficult peaks should be planned well in advance.
Geography:
A landlocked country the size of Arkansas, lying between India and the Tibetan Autonomous Region of China, Nepal contains Mount Everest (29,035 ft; 8,850 m), the tallest mountain in the world. Along its southern border, Nepal has a strip of level land that is partly forested, partly cultivated. North of that is the slope of the main section of the Himalayan range, including Everest and many other peaks higher than 8,000 m.
History:
The first civilizations in Nepal, which flourished around the 6th century B.C., were confined to the fertile Kathmandu Valley where the present-day capital of the same name is located. It was in this region that Prince Siddhartha Gautama was born c. 563 B.C. Gautama achieved enlightenment as Buddha and spawned Buddhism.
Nepali rulers' early patronage of Buddhism largely gave way to Hinduism, reflecting the increased influence of India, around the 12th century. Though the successive dynasties of the Gopalas, the Kiratis, and the Licchavis expanded their rule, it was not until the reign of the Malla kings from 1200–1769 that Nepal assumed the approximate dimensions of the modern state.
The kingdom of Nepal was unified in 1768 by King Prithvi Narayan Shah, who had fled India following the Moghul conquests of the subcontinent. Under Shah and his successors, Nepal's borders expanded as far west as Kashmir and as far east as Sikkim (now part of India). A commercial treaty was signed with Britain in 1792 and again in 1816 after more than a year of hostilities with the British East India Company.
Climate:
Climatic conditions of Nepal vary from one place to another in accordance with the geographical features. In the north, summers are cool and winters severe, while in the south summers are tropical and winters are mild. Nepal has namely five major seasons: spring, summer, monsoon, autumn, and winter. An average temperature drop of 6°C occurs for every 1,000 m gain in altitude. In the Terai, summer temperatures exceed 37° C and higher in some areas, winter temperatures range from 7°C to 23°C in Terai. In mountainous regions, hills, and valleys, summers are temperate while winter temperatures can plummet under sub-zero. The valley of Kathmandu has a pleasant climate with average summer and winter temperatures of 19°C – 35°C and 2°C – 12°C respectively.
The Himalayas act as a barrier to the cold winds blowing from Central Asia in winter and forms the northern boundary of the monsoon wind patterns. Eighty percent of the precipitation is received during the monsoon (June-September). Winter rains are more pronounced in the western hills. The average annual rainfall is 1,600 mm, but it varies by eco-climatic zones, such as 3,345 mm in Pokhara and below 300 mm in Mustang. An interesting fact is that there is no seasonal constraint on traveling in and through Nepal. Even in December and January, when winter is at its severest, there are compensating bright sun and brilliant views. As with most of the trekking areas in Nepal, the best time to visit are during spring and autumn. Spring is the time for rhododendrons while the clearest skies are found after the monsoon in October and November. However, Nepal can be visited the whole year-round.
Here's a brief view of the average temperatures and rainfall during peak summer and winter in the three most popular tourist areas:
Place

Summer (May, June, July)

Winter (Dec, Jan, Feb)

Max (°C)

Min (°C)

Rain (mm)

Max (°C)

Min (°C)

Rain (mm)

Kathmandu

28.1

19.5

312

19.3

3.0

15.4

Pokhara

29.7

21.3

829.7

20.3

7.7

26.3

Chitwan

33.0

25.3

404.0

24.1

8.3

13.8
People:
The population of Nepal was recorded to be about 26.62 million according to a recent survey done by the Central Bureau of Statistics, Nepal. The population comprises about 101 ethnic groups speaking over 92 languages. The distinction in caste and ethnicity is understood more easily with a view of the customary layout of the population. Though, there exist numerous dialects, the language of unification is the national language, Nepali. Nepali is the official language of the state, spoken and understood by the majority of the population. Multiple ethnic groups have their own mother tongues. English is spoken by many in Government and business offices. It is the mode of education in most private schools of Kathmandu and some other cities.
Northern Himalayan People:
In the northern region of the Himalayas are the Tibetan-speaking groups namely Sherpas, Dolpa-pas, Lopas, Baragaonlis, Manangis. The Sherpas are mainly found in the east, Solu, and Khumbu region; the Baragaonlis and Lopas live in the semi-deserted areas of Upper and Lower Mustang in the Tibetan rain-shadow area; the Manangis live in Manang district area; while the Dolpa-pas live in Dolpa district of west Nepal.
Middle Hills and Valley People:
Several ethnic groups live in the middle hills and valleys. Among them are the Magars, Gurungs, Tamangs, Sunuwars, Newars, Thakalis, Chepangs, Brahmins, Chhetris, and Thakuris. There are also occupational castes namely: Damai (tailor), Sarki (cobbler), Kami (blacksmith), and Sunar (goldsmiths).
Ethnic Diversity in the Kathmandu Valley:
Kathmandu Valley represents a cultural cauldron of the country, where, people from varied backgrounds have come together to present a melting pot. The natives of the Kathmandu Valley are the Newars. Newari culture is an integration of both Hinduism and Buddhism. The Newars of Kathmandu Valley were traders or farmers by occupation in the old days.
Terai People:
The main ethnic groups in Terai are Tharus, Darai, Kumhal, Majhi, and other groups. They speak north Indian dialects like Maithili, Bhojpuri. Owing to the fertile plains of Terai, most inhabitants live in agriculture. There are, however, some occupational castes like Majhi (fisherman), Kumhal (potter), and Danuwar (cart driver).
Religion:
Nepal was declared a secular country by the Parliament on May 18, 2006. Religions practiced in Nepal are Hinduism, Buddhism, Islam, Christianity, Jainism, Sikhism, Bon, ancestor worship, and animism. The majority of Nepalis are either Hindus or Buddhism. The two have co-existed in harmony through centuries.
Buddha is widely worshipped by both Buddhists and Hindus of Nepal. The five Dhyani Buddhas; Vairochana, Akshobhaya, Rathasambhava, Amitabha, and Amoghasiddhi, represent the five basic elements: earth, fire, water, air, and ether. Buddhist philosophy conceives these deities to be the manifestations of Sunya or absolute void. Mahakala and Bajrayogini are Vajrayana Buddhist deities worshipped by Hindus as well.
Hindu Nepalis worship the ancient Vedic gods. Bramha the Creator, Vishnu the Preserver, and Shiva the Destroyer, are worshipped as the Supreme Hindu Trinity. People pray to the Shiva Linga or the phallic symbol of Lord Shiva in most Shiva temples. Shakti, the dynamic element in the female counterpart of Shiva, is highly revered and feared. Mahadevi, Mahakali, Bhagabati, Ishwari are some of the names given. Kumari, the Virgin Goddess, also represents Shakti. Other popular deities are Ganesh for luck, Saraswati for knowledge, Lakshmi for wealth, and Hanuman for protection. Krishna believed to be the human incarnation of Lord Vishnu is also worshipped widely. Hindu holy scripts Bhagawat Gita, Ramayan, and Mahabharat are widely read in Nepal. Vedas, Upanishads, and other holy scriptures are read by well-learned Brahmin Pundits during special occasions.
Customs:
The diversity in Nepal in terms of ethnicity again makes room for various sets of customs. Most of these customs go back to the Hindu, Buddhist, or other religious traditions. Among them, the rules of marriage are particularly interesting. Traditional marriages call for deals arranged by parents after the boy or girl comes of age.
Nepalis do not eat beef. There are several reasons for this, one being that the Hindus worship the cow. The cow is also the national animal of Nepal. Another interesting concept among Nepalis is the division of pure and impure. "Jutho" referring to food or material touched by another's mouth directly or indirectly, is considered impure by Nepalis. Nepalis consider cow dung to be pure for cleansing purposes. During menstruation, women are considered impure and hence, are kept in seclusion until their fourth-day purification bath. Nepal is a patriarchal society. Men usually go out to work while women are homemakers. However, in cities, roles can differ. Most Nepalis abide by the caste system in living habits and marriage. Rural Nepal is mostly agrarian, while some aspects of urban life carry the glitz and glamour of the ultra-modern world.
Food:
Nepal does not have a distinct cooking style. However, food habits differ depending on the region. Nepali food has been influenced by Indian and Tibetan styles of cooking. Authentic Nepali taste is found in Newari and Thakai cuisines. Most Nepalis do not use cutlery but eat with their right hand. The regular Nepali meal is dal (lentil soup), bhat (boiled rice), and tarkari (curried vegetables), often accompanied by achar (pickle). Curried meat is very popular, but is saved for special occasions, as it is relatively more expensive. Momos (steamed or fried dumplings) deserve a mention as one of the most popular snacks among Nepalis. Rotis (flatbread) and dhedo (boiled flour) also make meals in some homes.