Sandwiched between the Kingdom of Nepal is the West and Bhutan is the East lies the enchanting little indian state of Sikkim. A small stretch of rugged and pristine land just 115 kilometers by 65 kilometers. On its Northern border towers the plateau of Tibet whereas it shares it Southern borders with West Bengal, which is another State of India.
The famous Singalila range separates Sikkim from Nepal in the west, while the Dongkya Range forms the border with the Tibet Autonomous Region of China to the east. Several passes across this range afford easy access to the Chumbi valley in Tibet and, beyond the valley, to the Tibetan capital of Lhasa.
Around two thirds of Sikkim consists of snow-covered mountains, dominated by the mighty Mt. Kanchendzonga which is regarded as a GUARDIAN DEITY of Sikkim. The People of Sikkim spiritually and traditionally views all the mountains as a God and the abode of Gods. The legendary abominable Snowman, or YETI is believed to roam the mountain slopes of Sikkim Himalayas.
Lepcha Tribe are considered to be the Original inhabitants of Sikkim. Later on Bhutia, Limboo and several other tribes are said to have arrived. Lepcha call it "NYE-MAE-EL" meaning PARADISE. Limbu call it SU HIM signifying "NEW HOUSE" or "NEW PLACE". The Tibetan name for Sikkim is DENZONG which means "VALLEY OF RICE" while the Bhutias call it BAYUL DEMAZONG which means "HIDDEN VALLEY OF RICE".
According to legend, Khye Bumsa, a 14th-century prince from the Minyak House in Kham in eastern Tibet, received a divine revelation instructing him to travel south to seek his fortunes. A fifth-generation descendant of Khye Bumsa, Phuntsog Namgyal, became the founder of Sikkim's monarchy in 1642, when he was consecrated as the first Chogyal or Religious king of Sikkim by the three venerated lamas at Yuksom, the first capital of Sikkim. Sikkim became Buddhist Kingdom under Namgyal - Chogyal dynasty from 1642 to 1975.
Sikkim fought many regional progression wars with Bhutan and Nepal in mid 18th century. In 1816 these domains were re-established to Sikkim by the British as an end-result of its help amid the Anglo-Nepalese War (1814– 16), however by 1817 Sikkim had turned into an accepted protectorate of Britain. India's freedom from British rule in 1947 and its move towards democracy spurred a fledging political movement in Sikkim. In 1950, a treaty was agreed between India and Sikkim which gave Sikkim the status of an Indian protectorate. External affairs, Defence, Diplomacy and communications were under Indian Government.
Sikkim finally merged with India on 16th May 1975 as 22nd state after a special referrendum where more than 97 percent of electorate voted for the merger of Sikkim with India.
Sikkim is notable for its biodiversity, including alpine and subtropical climates, as well as being a host to Kanchendzonga, the highest peak in India and third highest on Earth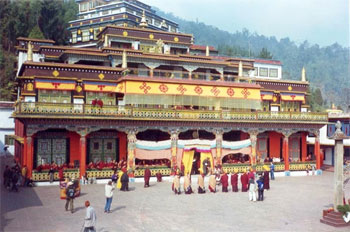 The area of Sikkim is 7,096 sq kms and measures approximately about 115 kms from North to South and about 65 kms from East to the West. The elevation ranges from 224 mts to over 8590 mts above sea level which gives Sikkim it's incomparable range of Flora and Fauna.
The pull of it's intense nature beauty imbued with a mystic aura and its cavalcade of ancient legends and colorful history make Sikkim the perfect holiday destination for all age group. It's age old appeal lies in the profusion of lofty peaks, holy lakes, ancient monasteries, orchid nurseries, dense foothill forest, frothing rivers, lush paddy fields and above all the stunning Sikkim trekking destinations and routes. Abundant in nature are animals like Red Panda, Snow leopard, Blue ship, Tibeten Antelope, Black Beer, Brown Beer and many others. Among others are many species of Animals, Birds, Butterflies and some 600 to 1000 species of orchids and flowers add to this wonderful collection of nature's bounty.
Sikkim has several National Park and number of Wild Life Sanctuaries, which provides a protected and ideal environment for its Flora and Fauna. World famous Kanchendzonga National Park also known as Kanchendzonga Biosphere Reserve is in Sikkim. It is also inscribed as India's first mixed world Heritage site by UNESCO in july 2016.
Sikkim lies nested under the protective shadow of its guardian diety, Mount Khanchenzonga (8585m), the third highest mountain in the world. No mountaineer has set Foot on it's great Summit - so sacred and Forbidding.
There is a feeling of pre-historic beauty and wonder still amongst those vast tracts of pristine peaks, snow capped mountains,valleys, lakes and rivers of Sikkim. It's the kind of mysterious beauty that poet rhapsodize about and makes artists long to capture on canvas.